2019 Panther Run Race Date - June 1st!
Did you miss last years Panther Run? No worries…join us for a sweat drenched, mud slinging, obstacle saturated run through the woods on June 1st, 2019! Hosted at The Ridge, Springville, Alabama (just outside Birmingham).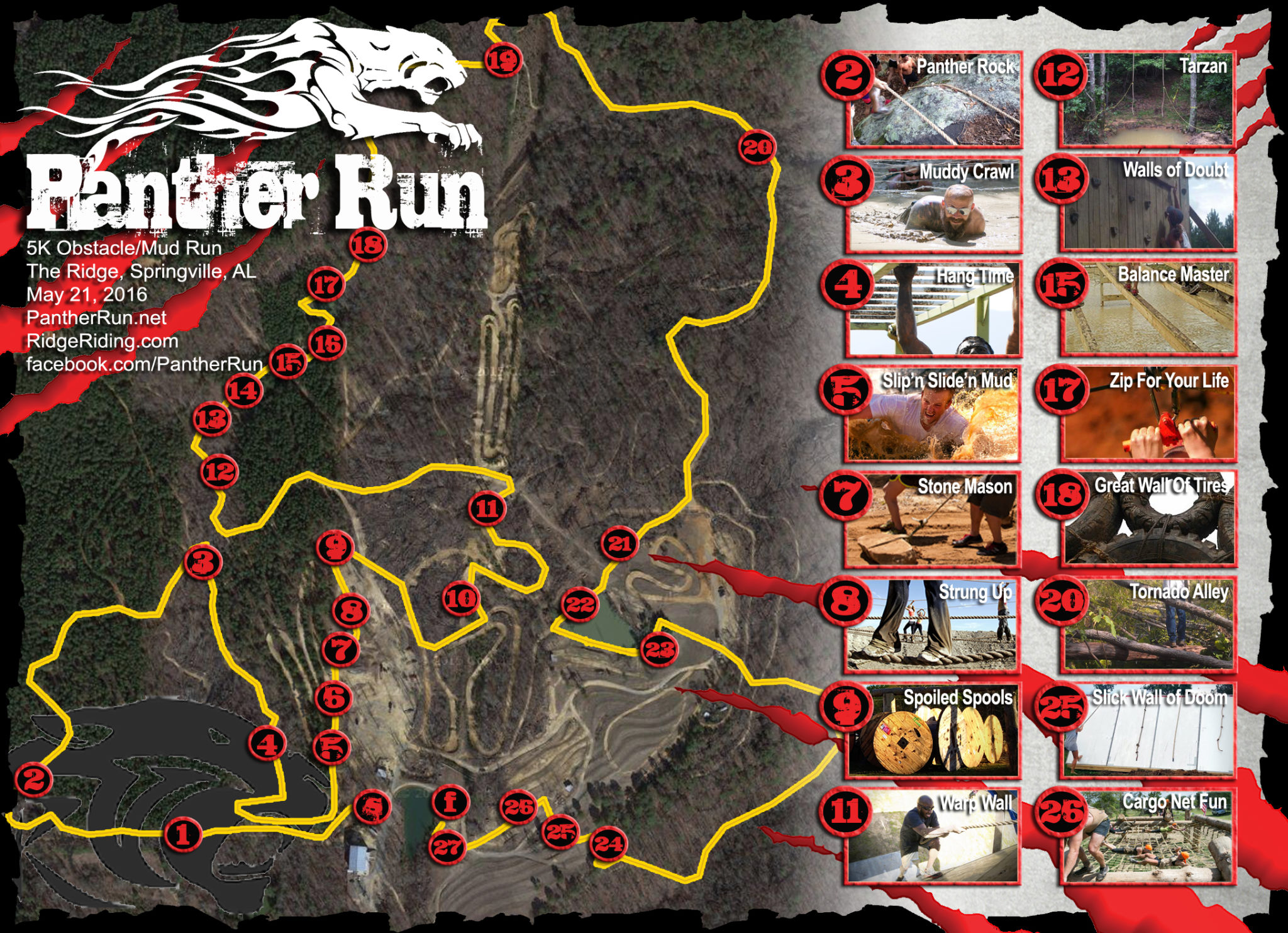 This is from one of our past races. The course and obstacles change from year to year.
Is There a Panther in You?
Watch this video to get pumped, grab your buddies, get registered, show up, own your fear, run, jump, crawl, climb and have the time of your life at one of the best obstacle races in the state!
Don't miss out on this year's Panther Run!
This is our 7th annual Panther Run 5K Obstacle Race/Mud Run and it's shaping up to be the best one yet! The last 4 have sold out! Get your tickets before they're gone!
This was the first time I've ever done this type of run. It's one of the most challenging things I've... read more ever done. It had me feeling like giving up a few times, but we kept going and finished. I was impressed by the obstacles, along with the natural obstacles and the challenging terrain. I'll be back!

This was my first OCR! I had a really fun time with my team! I can definitely see myself doing... read more this again in the future. The course is really challenging and sooooo beautiful ( I actually stopped twice to just take it all in). Saw some pretty serious injuries, so I hope everyone is okay! Again, I had a blast!

My first OCR !!!! Glad I picked this one first for sure. Tough and a whole lot of fun!! I... read more wont miss it ever again.

Jennifer Craven Minor

5/21/2018

Great event! Great support staff and volunteers. I wish they would do overall awards for all waves and post times somewhere.

Great run with lots of great obstacles. For such a short run (4 miles) there were able to squeeze... read more in over 35. The run was great as well with lots of elevation change. Great job. I will be back!!!!!

2 years in a row and loved it both times! This is the best race in the state of Alabama... read more for sure. Well organized and great staff.

Definitely one of, if not the best obstacle course race out there. Incredibly fun and safe. If I can finish... read more it in about an hour with a hit and a half of Lucy in my head... no problem.